Disinfection Systems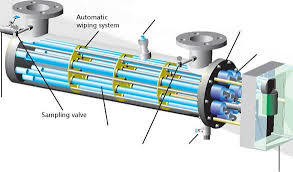 Disinfection Systems
Product Description
Disinfection Systems
Optima Water manufacture and supply following different type of Disinfection Systems:

Ultra Violet Systems
Ozonation Systems
Chlorine Dosing System
Ultra Violet Systems
We offer highly efficient & Effective UV System. We offer a complete range of Ultraviolet (UV) Disinfection System. Our System comprises of custom-built Units to suit the specific needs of individual customer.
Ultraviolet Sterilizer provides a safe means of water Purification, which has been a proven process for many years. This method is now widely recognized & Commercial ultraviolet disinfection systems are specifically designed to treat microbiologically contaminated ground or surface waters. These disinfection systems offer a 4-log reduction (99.99%) in bacteria, virus and protozoan cysts. This UV process is quick, simple, inexpensive and environmentally friendly as it does not add anything to your water and creates no disinfection by-products. This is most ecological way of treating water & waste water. UV disinfection is a physical process rather than a chemical disinfectant, which eliminates the need to generate, handle, transport, or store toxic/hazardous or corrosive chemicals. There is no residual effect that can be harmful to humans or aquatic life.
Ozonation Systems
Ozone is a gas that acts as a powerful oxidant and disinfectant. When injected as tiny bubbles in water, ozone precipitates materials such as iron, sulfur and manganese, while destroying bacteria at the same time. When the water is aerated and filtered, these harmful elements are removed from your water, leaving safe, clean water for your home.
Chlorine Dosing System
We design Manufacture and install Chlorine Dosing System & Chemical Dosing System. We have solution for small space, packaged type compact Dosing System for Chemical Dosing
The most common disinfection method involves some form of chlorine. Chlorine is a faster-acting disinfectant than elemental chlorine. Sodium hypochlorite is a relatively inexpensive solution that releases free chlorine when dissolved in water & rapidly kills many harmful micro-organisms. Chlorine dosing System is commonly used for disinfection in Water & Waste Water Treatment.
Contact Us
Plot No. 49, 1st Floor, Saidulajab, Ignou Road, New Delhi, Delhi, 110030, India
Phone :+918045478200