Reverse Osmosis Plant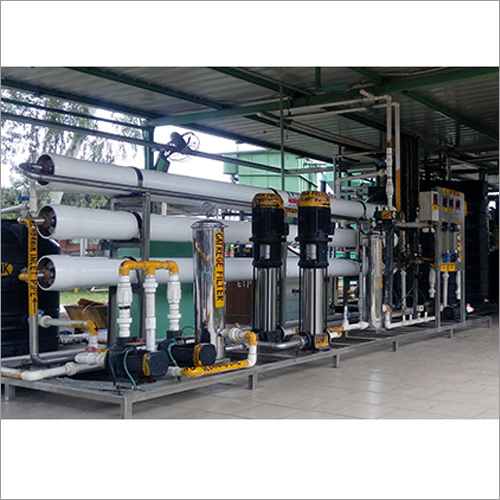 Reverse Osmosis Plant
Product Description
Reverse Osmosis Plant
We give optimum water solution to the clients by offering this quality examined
Reverse Osmosis Plant
. Manufactured under the stern guidance of deft professionals, this plant is best for treating dusty water and converting it into tasty water. Highly demanded on the commercial and industrial level, the offered is best for installed in water treatment plants. It nullifies all contaminants from the water in an efficient manner and provides 100 % pure water to the users.
Key Points:
Easy to use
Require less maintenance
Robust construction
REVERSE OSMOSIS PLANT
We manufacture both customized and standardized RO Plant. Reverse Osmosis Plant -RO Plant is a separation process that uses pressure to force a solution through a membrane that retains the solute on one side and allows the pure solvent to pass to the other side. More formally, it is the process of forcing a solvent from a region of high solute concentration through a membrane to a region of low solute concentration by applying a pressure in excess of the osmotic pressure. This is the reverse of the normal osmosis process, which is the natural movement of solvent from an area of low solute concentration, through a membrane, to an area of high solute concentration when no external pressure is applied.
This process is best known for its use in desalination (removing the salt from brackish & sea water to get fresh water), but it has also been used to purify fresh water for medical, industrial and domestic applications since the early 1970s.
We are Supplier of Industrial RO Plant. We are leading RO Plant Manufacturer in India. We are also providing Industrial RO System for Recycle Sewage Treated Water & Effluent Tread Water.
We offer a wide range of industrial reverse osmosis Plants, according to We need for tap water, brackish water & sea water application. The production range starts from 100 LPH (Liter per hour) to 100 M3 per hour for 400 IBS to 45,000 TDS and reduce TDS @ 90-99%.
Contact Us
Plot No. 49, 1st Floor, Saidulajab, Ignou Road, New Delhi, Delhi, 110030, India
Phone :+918045478200